15 Years Of Warm Welcome...
We are a family of hospitality professionals, travelers, surfers, and friends. We serve our guest for more than 15 years, bringing them warm welcome of our house, and authentic Bali experience. 
The Bali Boarding house is strategically placed, close to all of the famous southern Bali waves and beaches of the Bukit peninsula, just a few minutes of scooter ride.
The friendly atmosphere will get you in and just in short moment you will feel like at home with family and friends.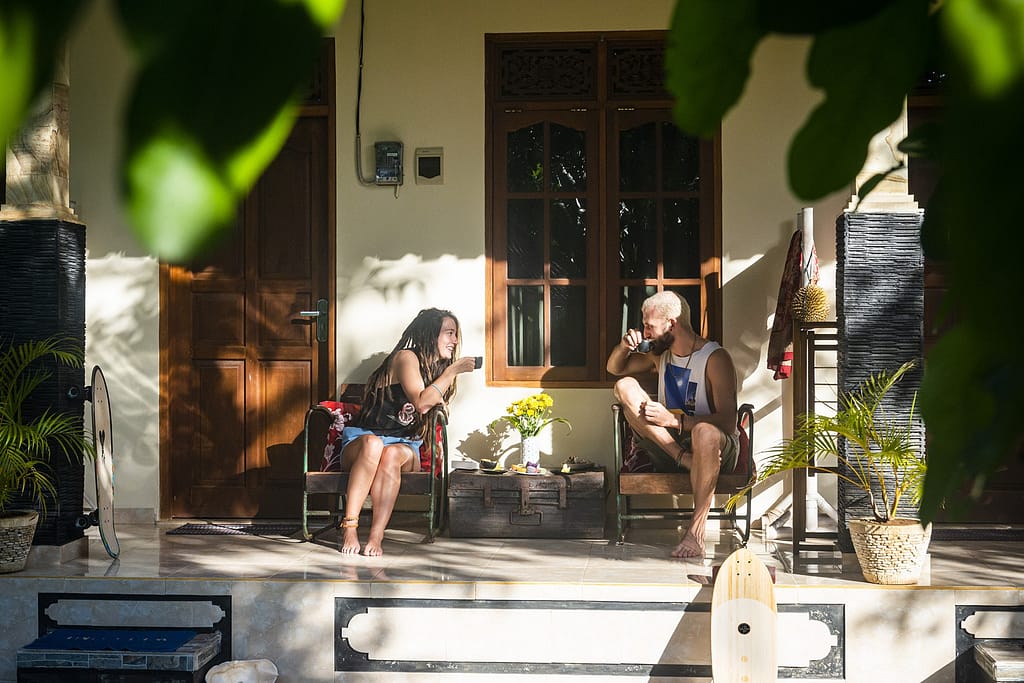 Beautiful garden, hammocks, slackline, indo board, yoga space, outdoor garden and good people make for a great place to relax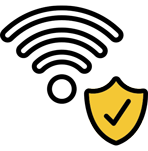 Free Wi-Fi access
BBQ
Fully equiped kitchen
Airport pick-up and drop-off
Great coffee
Close to Bali beaches
Our shared kitchen and dining room is the centerpiece of The Bali Boarding House … it is a place where the day begins and ends, where you Share your experiences with other travelers and of course, you prepare your delicious food. Great community living experience, you will like it. Feel free to help your self with coffee, tea and water are free for you.
We are proud of our beautiful and big garden. Oasis of peace and space for you to enjoy, relax, and play. Feel free to use all garden with chairs, swings, hanging beds, hammocks… The gazebo or yoga corner under the tree is here also for you to play or chill.
We have a small Balinese temple in the corner of the garden and the Balinese family is giving daily offerings around the temple and our property . It is providing our area with good spirit and protection. So you are in very good hands 😉
"I love this place, I like to come back every time, always something new and pleasant surprise awaits me. The garden is very large with plenty of places to relax. The rooms are very cozy and the clean staff of the area is regularly cleaned and kept clean. The kitchen is very modern and tidy several times a day. There was a new place for yoga, which I was very pleased with. The place is located in the center and close to every beach. There are plenty of good restaurants and shops in the area. It is possible to rent a brand new bike at very affordable prices. I look forward to seeing you soon🙏"
"I am so incredibly in love with this place. Perfectly located in the middle of the peninsula (so amazing to visit the different beaches depending on the surfing conditions), beautiful garden, great comfortable rooms, well-equipped kitchen, adorable dog and incredible staff! We came thinking we'd stay for 5 nights and ended up staying 20, so that should sum up how much we fell in love with the Bali Boarding House. It is most definitely not a party hostel: by 10pm lights were usually out and everyone was asleep and the vibe is most certainly better for couples or even families. If this is what you might be looking for, then the BBH is for you. I will definitely come back soon.
I seriously love this place, my absolute fav of all! I've stayed in couple other guesthouses in Bukit area but nothing is quite like this one. It's very special, the rooms are simple but cozy and sweet. The garden is just amazing, outdoor kitchen is far beyond Bali standards. The whole outside are is a beautiful open space where you can easily just chill the whole day or you can meet other people - somehow Bali Boarding House attracts great vibes people who becomes your friends and temporary family if you stay longer. It's a great balance of having nice chilled private accommodation but at the same time being able to easily socialize.
Loved this place, it was the cleanest amongst all the many hotels and hostels I visited while my 3 weeks stay in Bali. Staff was superior, so nice, kind and helpfull in every matter. Room was so nice, incredible value for money!
I loved staying at BB house. The place is quiet, rooms are clean and big kitchen has everything you need. I really loved the garden area. Stuff is super nice, especially Diana! Will be back for sure.
The Bali Boarding House is one of the most unique places to stay in Bali if you are traveling around, love the beach and surfing too. You will get VIP attention from the staff and pampered too. The Bali Boarding House has an amazing garden which is really the center piece and gives the whole place a very special feel. You cannot help feel distressed, relaxed and the place quickly feels like the home you love to back to after a busy day or a busy night. The place is immaculately clean...and I mean that in a 5 star sense.
Perfect place to stay for a month in Uluwatu! Down a quiet street but still walking distance to get breakfast, pancakes, croissants and eggs. 10 minute drive to the beach - Dreamland beach is amazing! Diani the host was so so sweet and caring and we will miss her! She is always around if you need anything. The room was very clean and bed was comfy. We had a great stay! Think we will be back 🙂 thank you!
If you like surfing and skating stay here. Super close to a lot of great beaches and skate parks. You can rent bikes here at a good price too! 🙂 Kate, Doni and Antoni are great people and will help you any way they can! The kitches is a BIG plus and the good dogs 🙂