Why is the Bali the best surf destination?
There is no another surf destination on the planet that has so many different, World-class surf spots on offer within a small radius. From our strategic location in central Bukit it doesn't take more than 20min bike ride to get to your favourite surf spot. Bali is the surf destinations you have to visit at least once in your lifetime…and than you will be coming back again and again 🙂
Thank you for reading this post, don't forget to subscribe!
The other awesome part about surfing in Bali is that Bali has something to offer everyone: From complete beginners learning to surf to hardcore surfers looking for long rides and barrels, it's all here.
The huge variety of spots, lefts and rights, beach breaks and reef breaks, combined with offshore winds on at least one side of the island at any time, makes Bali a year-round dream surf holiday destination.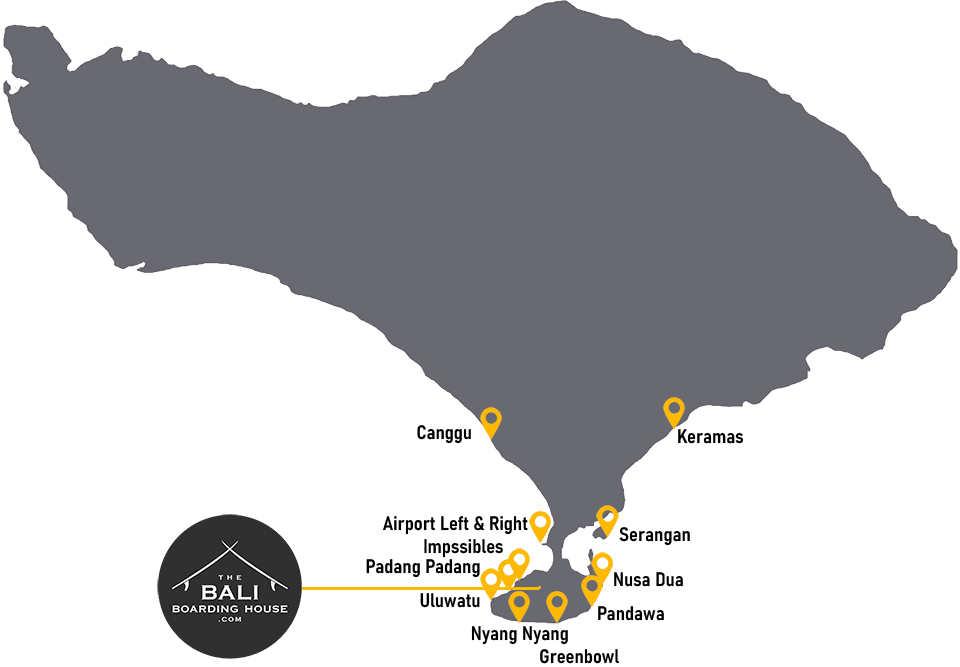 View detailed surf forecast for Uluwatu. Visit surf-forecast.com for more details, long range forecasts, surf reports, swell and weather maps.
Uluwatu is Bali's most famous wave. Super consistent. Multiple sections and long left handers in stunning setting.
Ideal conditions
The wave works best with a south-southwest swell, Any wave size and best with offshores in the dry season
Skill level required
Advanced to expert surfers only!
Bali's best surf spot when it's on. Perfect barrel, short and ultra intense left-hand wave…the indo pipeline
Ideal conditions
The wave works best with a south-southwest big swell, 
Skill level required 
Padang is for expert only. Baby Padang (right across the channel) is ideal for beginners and intermediate surfers
Fast racy wave. There are 3 seperate peaks on this wide reef which breaks up the crowds. On the right conditions with a good size swell and offshore wind it is possible for the sections to link up and to get a ride of a mile or more to the warungs at bingin.
Ideal conditions
The wave works best with a south-southwest swell, all tides and best on bigger swells
Skill level required 
Advanced to experts
The surfbreaks at the airport are a great alternative for people based around the Kuta and Jimbaran area looking for high quality reef breaks without having to go to the Bukit.
About the wave
Left and Right reef breaks that break on both sides of the runway at the Airport.
Ideal conditions
Best on the higher tides and expct rides of up to 100 mteres with fun barrel sections
Skill level required
Advanced and expert surfers
Sometimes called Greenballs, picks up any swell direction in wet season. Breaks mostly right into a channel but also can pick up a few lefts.
Ideal conditions
Wave is very exposed to the trade winds. You need to pick your time carefully to go there when it's not too big and not blown out.
Skill level required
Intermediate to Advance
Beware of the strong sweeping current and make sure you save some energy for the huge climb back to the top.
Pandawa was a secret spot called timbers for a very long enjoyable time. The new road access changed all that but the wave still breaks as good as it ever does and is now a popular sightseeing destination for Indonesian tourists. Mostly lefts breaking into a channel, on big days it can be compared to teahupoo hence the name timbers. 
Ideal conditions
Works best from small to mid size swells during the wet season. 
Skill level required
Intermediate to advance surfers. Due to the strong current and heavy breaking waves in bigger days, it is usually only suitable for advanced surfers.
Nusa Dua is a righthand swell magnet located on Bali's East coast. There are more breaks in Nusa Dua area and it usually depends on the wind direction to determine which wave is the better one to surf.
Ideal conditions
Nusa Dua works best during a southwest swell with northwesterly wind directions.
Skill level required 
Due to the reef, Nusa Dua is an advanced surfer's wave, but the sheltered position there is usually a break suitable for beginners and intermediate surfers.
Serangan is a fun reef break for intermediate and good surfers. Is the go to spot in Bali rainy season between November and March since the winds are offshore.
Ideal conditions
The wave works best with a south-southwest swell, westerly (offshore ) winds. Best in early mornings with light winds
Skill level required 
Intermediate and good surfers
Keramas is a current World Surf League World Tour stop, the island's best right, and perhaps one of bali's best surf spots.
Ideal conditions
Keramas is at its best form with a south-southwest swell and a northwest wind direction. The wave works well during all tides and can even stay consistent during a light onshore wind. Mainly a Bali wet season surf spot
Skill level required 
Keramas is for advanced surfers. Don't be surprised if you see a few pros in the lineup. The locals also surf at an extermely high level at keramas
The black sands of Canggu are home to a variety of waves that cater to both beginners and intermediates.
Ideal conditions
Canggu works best with a south-southwest swell with northeast winds at mid-tide. 
Skill level required 
Surfing Canggu is great for intermediate surfers